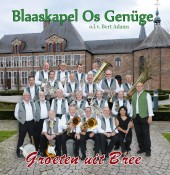 Op zaterdagavond 2 juli werd onze eerste CD 'Groeten uit Bree' met trots voorgesteld aan het grote publiek, dat zeer talrijk aanwezig was. Met deze CD willen we graag een beeld schetsen van hoe een concert van Os Genüge klinkt nl. veel variatie in de muziek, zang, solowerk en eigen arrangementen.
De CD is verkrijgbaar tijdens onze optredens en bij onze leden aan €15 of via overschrijving van €17,65 (is inclusief verzendingskosten) op rekening BE30 9799 5539 2411 met vermelding van naam en adres. Of kom eens naar onze repetitie op donderdagavond vanaf 20u in de school van 't Hasselt - Bree. U kan er live meegenieten van onze muziek en samen met de muzikanten iets drinken.
Beluister hieronder de intro van enkele nummers.
01 Amsel Polka
02 Vielleicht seh'n wir uns wieder.
03 Walzertraum
07 Gloria - Solist Rudi Clysters
08 Unser Dirigent
10 Groeten uit Bree
12 Das Blonde Katchen
14 Limburg mie Vaderland (Moje Ceska Vlast)
15 Die schonste Rose
18 Ring of Fire
Alle foto's te bekijken via deze link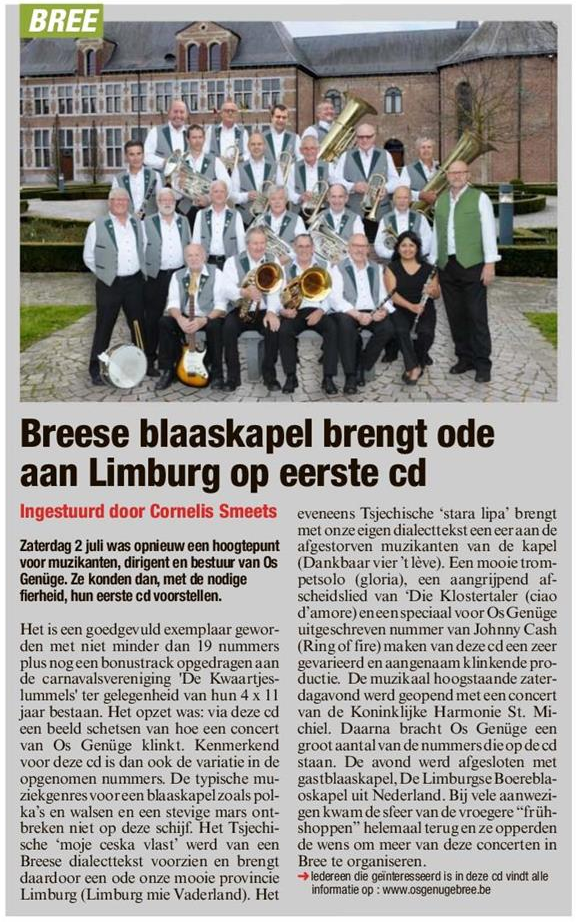 Warning: "continue" targeting switch is equivalent to "break". Did you mean to use "continue 2"? in /customers/1/5/9/osgenugebree.be/httpd.www/templates/sjabloon50/functions.php on line 180